Amazing Twist Braids for Curly, Wavy and Straight Hair

Do you want to learn how to get your hair styled in a twist braid? If so, this post is for you! Twist braids are perfect for all hair types and textures. They can be worn with curly, wavy, or straight hair. This article will show you how to wear them on different hair types and the best products to use!
Twist braids are a great way to tame your curly, wavy, or straight hair. They can be done on wet or dry hair, and they look fabulous in any style. Twist braids can also help prevent breakage of your curls by allowing the ends to rest against each other without being pulled too much. Keep reading for more information about how you can do twist braids yourself!
The best part about twist braids is that they are versatile enough for all hair types, including curly, wavy, and straight hair. So, whether you're looking for an easy hairstyle that will last all day long or need something low maintenance for date night with your significant other, this technique might be what you need.
Benefits of the twist braid hairstyle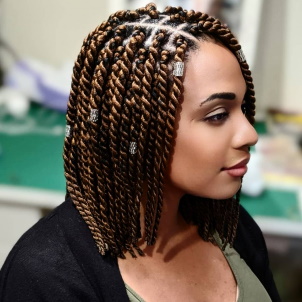 A new twist on the braided hairstyle, twist braids are a great way to wear your hair without having to worry about it coming undone. Here is a tutorial on how to make this simple yet elegant style.   For best results, start with freshly washed and conditioned curly, wavy or straight hair. Next, divide your hair into two sections and secure each section out of the way with clips or elastic bands. Now divide those sections into three pieces – one in front that will form the base of your braid, one over top of that piece from behind, which will be twisted around the base as if you're twisting bread dough onto itself, and then finally, one more piece from behind again which will be twisted around both strands before being brought forward over.
Tips for getting the perfect twist braids hairstyle
Twist braids are a hairstyle that is easy to achieve and perfect for any hair type. If you have curly, wavy, or straight hair, this style will work well with your natural texture. Follow these simple steps to get the look:
Step 1: Wash and condition hair as usual.
Step 2: Part your hair into two sections- one on either side of your head. Twist each section in opposite directions (right twist left twist; up twist down curl). Continue twisting until all the strands are twisted together. If desired, repeat on the other side of the head, then secure with bobby pins at the nape of the neck so they don't unravel during sleep or daily activities.
Step 3: Take the right side of the top row (the left side if you're looking at someone wearing them) and cross it under to meet up with its opposite number from the bottom row. Then take that same strand on the left side.
Optional step 4: apply the leave-in condition.